Fetal and Neonatal Physiology ,(2 vol Set),6/e] [성보의학서적 신간의학도서 목록]
의학서적 온라인 할인서점 성보의학서적의 신간도서 안내입니다.
의학서적 전문서점 "성보의학서적"에서 추천하는 신간도서입니다.
▼ 위 도서명 또는 도서사진을 클릭하시면 저희 "성보의학서적_홈페이지"에서 가격등 도서에 관한, 자세한 정보를 보실수 있습니다.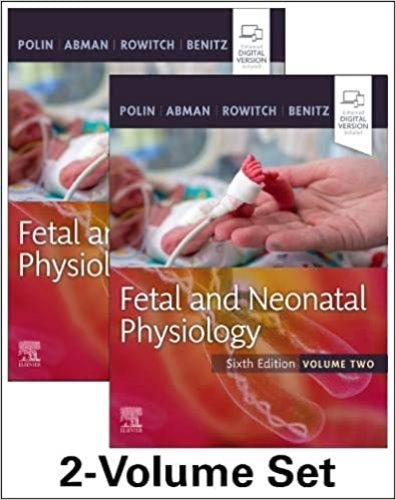 상품명: Fetal and Neonatal Physiology ,(2 vol Set),6/e
정 가: 455,000원
판매가: 409,500원
적립금: 12,280원 (3%)
저 자: Richard A. Polin, MD
출판사: Elsevier
ISBN : 9780323712842
출판일: 2021.08
판 형: Hardcover
판 수: 6/e
면 수: 1944 page
상품상세정보
의학서적전문 "성보의학서적"의 신간의학도서입니다.
Offering the comprehensive authoritative information needed for effective diagnosis treatment and management of sick and premature infants Fetal and Neonatal Physiology 6th Edition is an invaluable resource for board review clinical rounds scientific research and day-to-day practice. This trusted two-volume text synthesizes recent advances in the field into definitive guidance for today's busy practitioner focusing on the basic science needed for exam preparation and key information required for full-time practice. It stands alone as the most complete text available in this complex and fast-changing field yet is easy to use for everyday application.

Key Features

•Offers definitive guidance on how to effectively manage the many health problems seen in newborn and premature infants.
•Contains new chapters on Pathophysiology of Genetic Neonatal Disease, Genetic Variants and Neonatal Disease, and Developmental Biology of Lung Stem Cells, as well as significantly revised chapters on Cellular Mechanisms of Neonatal Brain Injury, Neuroprotective Therapeutic Hypothermia, Enteric Nervous System Development and Gastrointestinal Motility, and Physiology of Twin-Twin Transfusion.
•Features 1,000 full-color diagrams, graphs and anatomic illustrations, 170+ chapters, and more than 350 global contributors.
•Includes chapters devoted to clinical correlation that help explain the implications of fetal and neonatal physiology, as well as clinical applications boxes throughout.
•Provides summary boxes at the end of each chapter and extensive cross-referencing between chapters for quick reference and review.
•Allows you to apply the latest insights on genetic therapy, intrauterine infections, brain protection and neuroimaging, and much more.
•Enhanced eBook version included with purchase. Your enhanced eBook allows you to access all of the text, figures, and references from the book on a variety of devices.
Author Information

By Richard A. Polin, MD, William T. Speck Professor of Pediatrics, College of Physicians and Surgeons, Columbia University; Director, Division of Neonatology, Morgan Stanley Children's Hospital of New York – Presbyterian, Columbia University Medical Center, New York, New York ; Steven H. Abman, MD, Professor of Pediatrics, University of Colorado School of Medicine; Director, Pediatric Heart Lung Center, Children's Hospital Colorado, Denver, Colorado; David Rowitch, MD, PhD, Professor of Pediatrics and Neurosurgery, Chief, Division of Neonatology, UCSF Benioff Children's Hospital San Francisco, San Francisco, Californiaand William E. Benitz, MD, Philip Sunshine Professor in Neonatology, Chief, Division of Neonatal and Developmental Medicine, Stanford University School of Medicine, Director of Nurseries, Lucile Packard Children's Hospital, Palo Alto, California
-도서목차-
• Genetics and Embryology: Polin (Benitz)
• Placenta and intrauterine environment: Abman (Polin)
• Developmental Pharmacology: Polin (Abman)
• Intrauterine and postnatal growth: Benitz (Abman)
• Perinatal iron, mineral and vitamin metabolism: Benitz (Abman)
• Lipid metabolism: Benitz (Abman)
• Carbohydrate metabolism: Abman (Benitz)
• Protein metabolism: Abman (Polin)
• Thermoregulation: Benitz (Polin)
• Skin: Benitz (Polin)
• Fetal and Neonatal Cardiovascular physiology: Benitz (Abman)
• Lung: Abman (Benitz)
• Surfactant: Abman (Benitz)
• Gastrointestinal: Polin (Abman)
• Liver and bilirubin: Polin (Benitz)
• Kidney: Polin (Abman)
• Fluid and electrolyte: Polin (Abman)
• Developmental hematopoiesis: Benitz (Polin)
• Hemostasis: Abman (Benitz)
• Developmental immunology: Benitz (Polin)
• Neurology: Rowitch (Abman)
• Special Sensory systems: Abman (Benitz)
• Pathophysiology of neonatal diseases: Polin (Benitz/Abman/Rowitch – for neuroscience)

기타 의학도서에 관련된 문의사항은 고객센터(02-854-2738) 또는 저희 성보의학서적 홈페이지내 도서문의 게시판에 문의바랍니다.
감사합니다.

성보의학서적 "http://www.medcore.kr