Principles and Practice of Movement Disorders,3/e [성보의학서적 신간의학도서 목록]
의학서적 온라인 할인서점 성보의학서적의 신간도서 안내입니다.
의학서적 전문서점 "성보의학서적"에서 추천하는 신간도서입니다.
▼ 위 도서명 또는 도서사진을 클릭하시면 저희 "성보의학서적_홈페이지"에서 가격등 도서에 관한, 자세한 정보를 보실수 있습니다.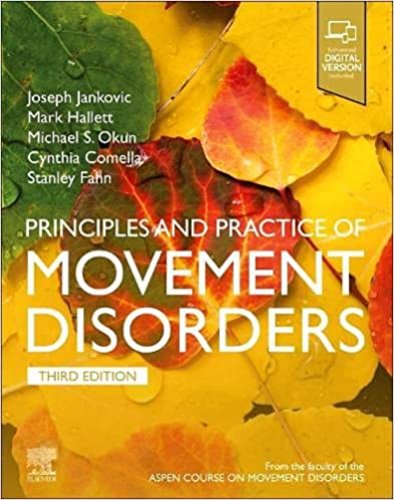 상품명: Principles and Practice of Movement Disorders,3/e
정 가: 275,000원
판매가: 247,500원
적립금: 7,420원 (3%)
저 자: Joseph Jankovic MD
출판사: Elsevier
ISBN : 9780323310710
출판일: 2021.08
판 형: Hardcover
판 수: 3/e
면 수: 564 page
상품상세정보
의학서적전문 "성보의학서적"의 신간의학도서입니다.
Offering a state-of-the-art, authoritative summary of the most relevant scientific and clinical advances in the field, Principles and Practice of Movement Disorders provides the expert guidance you need to diagnose and manage the full range of these challenging conditions. Superb summary tables, a large video library, and a new, easy-to-navigate format help you find information quickly and apply it in your practice. Based on the authors' popular Aspen Course of Movement Disorders in conjunction with the International Parkinson and Movement Disorder Society, this 3rd Edition is an indispensable resource for movement disorder specialists, general neurologists, and neurology residents.
Explores all facets of movement disorders, including the latest rating scales for clinical research, neurochemistry, clinical pharmacology, genetics, clinical trials, and experimental therapeutics.
Provides the essential information you need for a clinical approach to diagnosis and management, with minimal emphasis on basic science.
Reflects recent advances in areas such as the genetics of Parkinsonian and other movement disorders, diagnostic brain imaging, new surgical approaches to patients with movement disorders, and new treatment guidelines for conditions such as restless legs syndrome.
Features a reader-friendly, full-color format, with plentiful diagrams, photographs, and tables.
Includes access to several hundred updated, professional-quality video clips that illustrate the manifestations of all the movement disorders in the book along with their differential diagnoses.
Enhanced eBook version included with purchase. Your enhanced eBook allows you to access all of the text, figures, and references from the book on a variety of devices.
-도서목차-
Section 1: Overview

1 Clinical Overview and Phenomenology of Movement Disorders
2 Motor Control: Physiology of Voluntary and Involuntary Movements
3 Functional Neuroanatomy of the Basal Ganglia

Section 2: Hypokinetic disorders

4 Parkinsonism: Clinical Features and Diagnosis
5 Etiology and Pathogenesis of Parkinson Disease
6 Medical Treatment of the Motor Features of Parkinson Disease
7 Surgical Treatment of Parkinson Disease and Other Movement Disorders
8 Non-Motor Problems in Parkinson Disease
9 Atypical Parkinsonism, Parkinsonism-Plus Syndromes and Secondary Parkinsonian Disorders
10 Tremors

Section 3: Hyperkinetic disorders

11 Dystonia: Phenomenology, classification, etiology, pathology, biochemistry, and genetics
12 Treatment of Dystonia
13 Huntington Disease
14 Chorea, Ballism, and Athetosis
15 Tics and Tourette Syndrome
16 Stereotypies
17 The Tardive Syndromes: Phenomenology, Concepts on Pathophysiology and Treatment, and Other Neuroleptic-Induced Syndromes
18 Myoclonus: Phenomenology, Etiology, Physiology, and Treatment
19 Gait Disorders: Pathophysiology and Clinical Syndromes
20 Ataxia: Pathophysiology and Clinical Syndromes
21 Stiffness Syndromes
22 Wilson Disease
23 Autoimmune Movement Disorders
24 Paroxysmal Dyskinesias
25 Restless Legs Syndrome
26 Peripheral Movement Disorders
27 Functional (Psychogenic) Movement Disorders: Phenomenology, Diagnosis, and Treatment

기타 의학도서에 관련된 문의사항은 고객센터(02-854-2738) 또는 저희 성보의학서적 홈페이지내 도서문의 게시판에 문의바랍니다.
감사합니다.
성보의학서적 "http://www.medcore.kr