Title of the Book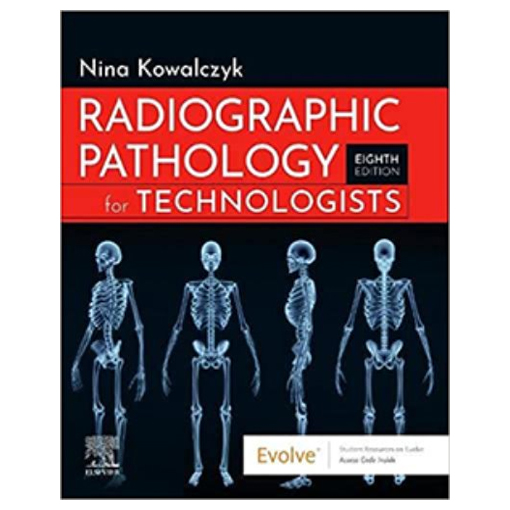 ▶ Click Image or Title to the Page on the Site
Product details
도서명: Radiographic Pathology for Technologists,8/e
저 자: Nina Kowalczyk
출판사: Elsevier
ISBN : 9780323791298
출판일: 2021.11
판 형: Softcover
판 수: 8/e
면 수: 528 page
Description
Get the essential information you need to master radiographic pathology! Radiographic Pathology for Technologists, 8th Edition introduces the pathologic appearance of common diseases as seen in diagnostic imaging. Organized by body system, the book uses a clear, easy-to-understand approach to discuss anatomy and physiology, the pathologic process, signs and symptoms, diagnosis, and treatment of diseases. This edition is updated to reflect today's radiography practice including diagnostic modalities such as CT, MR, sonography, nuclear medicine, and fusion/hybrid imaging. From well-known radiologic and imaging sciences author Nina Kowalczyk, this essential text also provides excellent preparation for the radiographic pathology portion of the ARRT® credentialing exam.
​
New to this edition
NEW! Updated content reflects the latest ARRT and ASRT curriculum guidelines.
NEW! Current digital radiography is covered throughout the text.
NEW! Updated images and illustrations reflect current practice for general radiography and alternative modalities such as CT, MR, sonography, nuclear medicine, and fusion/hybrid imaging, demonstrating how pathologies appear in various imaging modalities.
​
Key Features
Essential level of coverage presents approximately 150 injuries and abnormalities most frequently diagnosed using medical imaging, focusing students on the pathologies they are most likely to encounter in practice and providing just the right amount of information for a shorter pathology course.
Discussions of correlative and differential diagnosis explain the diagnostic process and demonstrate the importance of high-quality images.
Summary tables review the pathologies covered and the preferred imaging modalities for diagnosis.
Learning features include chapter outlines and objectives, key terms, and multiple-choice and discussion questions for each chapter, with answers provided in the back of the text.
Table of Contents
1. Introduction to Pathology
2. The Skeletal System
3. The Respiratory System
4. The Cardiovascular System
5. The Abdomen and Gastrointestinal System
6. The Hepatobiliary System
7. The Urinary System
8. The Central Nervous System
9. The Hemopoietic System
10. The Reproductive System
11. The Endocrine System
12. Traumatic Disease
Glossary
Bibliography
Index
​
▶ Click Here( https://www.medcore.kr )to Homepage
---