The Practice of Clinical Echocardiography,6/e [성보의학서적 신간의학도서 목록]
의학서적 온라인 할인서점 성보의학서적의 신간도서 안내입니다.
의학서적 전문서점 "성보의학서적"에서 추천하는 신간도서입니다.
▼ 위 도서명 또는 도서사진을 클릭하시면 저희 "성보의학서적_홈페이지"에서 가격등 도서에 관한, 자세한 정보를 보실수 있습니다.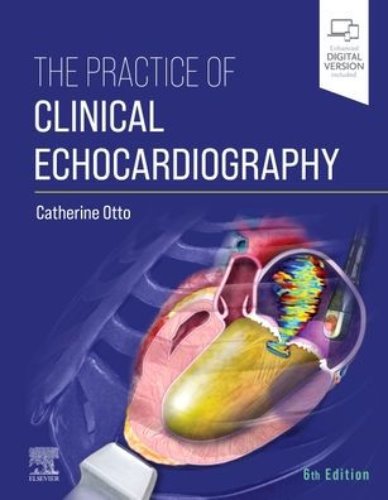 상품명: The Practice of Clinical Echocardiography,6/e
정 가: 335,000원
판매가: 301,000원
적립금: 9,030원 (3%)
저 자: Catherine M. Otto
출판사: Elsevier
ISBN : 9780323697286
출판일: 20021.07
판 형: Hardcover
판 수: 6/e
면 수: 880 page
상품상세정보
의학서적전문 "성보의학서적"의 신간의학도서입니다.
Ideally suited for those clinicians who have already mastered basic principles The Practice of Clinical Echocardiography 6th Edition provides expert guidance on interpreting echocardiographic images and Doppler flow data. Through practical clear and carefully edited content world-renowned expert Dr. Catherine M. Otto and her team of more than 65 leaders in echocardiography demonstrate how to apply advanced knowledge to daily clinical decision making. Newly reorganized sections cover advanced principles for the echocardiographer best practices for echocardiography laboratories transthoracic and transesophageal echocardiography intraoperative and interventional echocardiography and point-of-care cardiac ultrasound.

Key Features
Provides an in-depth, clear, and concise review of the latest clinical applications of echocardiography with an advanced level of discussion, now thoroughly updated with new clinical knowledge, new treatments and guidelines, the latest evidence, and innovations in advanced echocardiographic imaging.
Reviews the technical aspects of data acquisition and analysis with an emphasis on outcomes.
Covers key topics such as transcatheter interventions for valvular heart disease, prosthetic valve dysfunction, the athletic heart, cardiac assist devices, cardio-oncology, heart disease in pregnancy, advanced 3D echocardiography, strain imaging, stress echocardiography, and much more.
Includes updated illustrations throughout—nearly 1,000 echocardiograms, Doppler tracings, anatomic drawings, and flow charts for diagnostic approaches—as well as hundreds of echo video clips keyed to images in the text.
Discusses limitations, pitfalls, and alternate approaches.
Features chapter summary boxes with new "Quick Reviews" and a practical approach to echocardiographic data acquisition, measurement, and interpretation.
Enhanced eBook version included with purchase. Your enhanced eBook allows you to access bonus images plus all of the text, figures, and references from the book on a variety of devices.

Author Information
Edited by Catherine M. Otto, MD, J. Ward Kennedy-Hamilton Endowed Chair in Cardiology,Professor of Medicine,Division of Cardiology,University of Washington,Seattle, Washington
-도서목차-
Section 1: ADVANCED PRINCIPLES FOR THE ECHOCARDIOGRAPHER

1. 3D Echocardiographic Image Acquisition, Display, and Analysis
2. Principles of Myocardial Mechanics and Strain Imaging
3. Contrast Echocardiography
4. Quantitative Analysis of Left Ventricular Anatomy and Systolic Function
5. Left Ventricular Diastolic Function
6. Right Ventricular Anatomy and Function

Section 2: ECHOCARDIOGRAPHY BEST PRACTICES

7. Diagnostic Echocardiography Laboratory: Structure, Standards, and Quality Improvement
8. The Comprehensive Diagnostic Transthoracic and Transesophageal Echocardiogram
9. Intraoperative Echocardiography
10. Interventional Echocardiography
11. Focused Cardiac Ultrasound at the Bedside

Section 3: CARDIOMYOPATHIES, TUMORS, AND PERICARDIAL DISEASE

12. Dilated Cardiomyopathy
13. Hypertrophic Cardiomyopathy
14. Restrictive Cardiomyopathy
15. Cardiac Transplantation
16. Cardiac Assist Devices
17. Pericardial Disease
18. Cardiac Tumors and Cardio-oncology

Section 4: ISCHEMIC HEART DISEASE

19. Stress Echocardiography for Detecting Coronary Ischemia
20. Non-exercise Stress Echocardiography for Diagnosis of Coronary Disease
21. Role of Echocardiography in Patients with an Acute Coronary Syndrome

Section 5: VALVULAR HEART DISEASE

22. Aortic Stenosis (Including Evaluation for TAVI)
23. Aortic Regurgitation
24. Mitral Regurgitation
25. Transesophageal Echocardiography for Surgical Repair of Mitral Regurgitation
26. Transcatheter mitral valve repair: role of echocardiography in patient selection, procedural guidance, and evaluation of outcomes
27. Mitral Stenosis
28. Right-Sided Valve Disease in Adults
29. Endocarditis
30. Fluid Dynamics of Prosthetic Valves
31. Echocardiographic Recognition and Quantitation of Prosthetic Valve Dysfunction

Section 6: VASCULAR AND SYSTEMIC DISEASES

32. Acute Aortic Syndromes
33. Inherited Connective Tissue Disorders
34. Hypertensive Heart Disease and Nutritional and Metabolic Disorders
35. The Athletic Heart on Echocardiography
36. Pulmonary Hypertension
37. Systemic Diseases Characterized by Immune-Mediated Injury
38. Echocardiographic Evaluation of Patients with a Systemic Embolic Event
39. Echocardiography in Patients with Atrial Fibrillation and Flutter

Section 7: ADULT CONGENITAL HEART DISEASE and THE PREGNANT PATIENT

40. Heart Disease in Pregnancy
41. Congenital Shunts
42. Left Heart Anomalies
43. Right Heart Anomalies
44. Complex Conotruncal Anomalies Including Tetralogy of Fallot
45. Transposition of the Great Arteries
46. Single Ventricles

기타 의학도서에 관련된 문의사항은 고객센터(02-854-2738) 또는 저희 성보의학서적 홈페이지내 도서문의 게시판에 문의바랍니다.
감사합니다.

성보의학서적 "http://www.medcore.kr