Title of the Book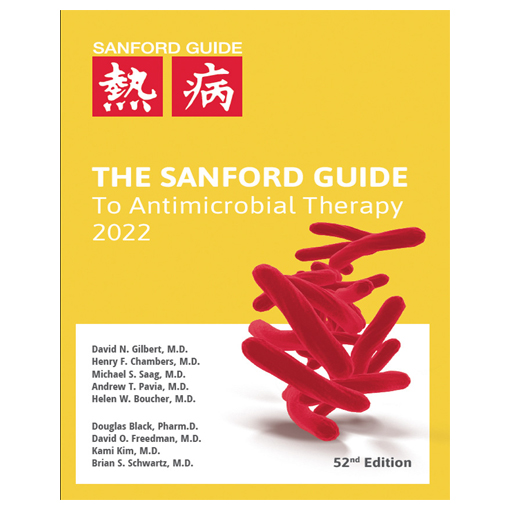 ▶ Click Image or Title to the Page on the Site
Product details
도서명: The Sanford Guide to Antimicrobial Therapy 52e/2022 열병 (항생제 가이드북)
저 자: M.D. Gilbert, David N
출판사: Antimicrobial Therapy
ISBN : 9781944272197
출판일: 2022.09
판 형: Softcover
판 수: 52/e
Description
The 52nd edition of the leading clinical reference on treatment of infectious diseases and anti-infective drug information. Helpful in day-to-day practice and as a component of your organization's antimicrobial stewardship program, The Sanford Guide provides valuable guidance in the age of antibiotic resistance. Popular with physicians, pharmacists, physician assistants, nurse practitioners, and other clinicians, The Sanford Guide to Antimicrobial Therapy provides information that is convenient, concise, and reliable.
This year's guide includes a FREE 1-month trial of Sanford Guide All Access, which provides expanded content, interactive tables and tools, updated daily, for mobile apps and the web.
​
NOTICE: This year's guide is printed on thicker off-white paper due to supply chain issues.
Available in print in pocket size, spiral bound and large library editions.
Table of Contents
Coverage includes:
​
· Clinical syndromes
o pathogens
o bacterial
o fungal
o mycobacterial
o parasitic
o viral
​
· Anti-infective agents
o dosing
§ pediatric adjustments
§ renal adjustments
o adverse effects
o activity
o pharmacology
o interactions
​
· Preventative therapy
​
​
What's new in 2022:
Numerous changes throughout, with major changes in the following areas:
​
New Drugs - Addition of new COVID-19 drugs, cefiderocol, ibrexafungerp, brincidofovir, cabotegravir, doravirine, and more.
New Tables - ECMO Drug Dosing Adjustment (Table 10F) and QTc Prolongation (Table 10G).
Table 1: Initial Choice of Antimicrobial Therapy - Numerous changes including 2021 CDC STI updates, recommendations for resistant infections.
Table 5: Recommendations for MDR Bacteria - Updates for gram-negative bacilli updated based on recent evidence and IDSA Guidelines.
Table 12: Treatment of Mycobacterial Infections - Revised recommendations for latent M. tuberculosis & non-tuberculous mycobacteria.
Table 13: Treatment of Parasitic Infections - Significant changes to amebic meningoencephalitis, babesiosis and trypanosomiasis, and updates to sources for antiparasitic drugs (Table 13D).
Table 14: Treatment of Viral Infections - Updates to COVID-19 treatment recommendations (digital subscriptions have most recent updates)
▶ Click Here( https://www.medcore.kr )to Homepage
---