Title of the Book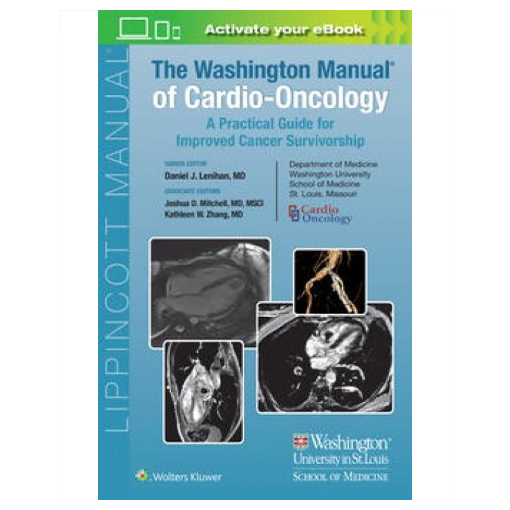 ▶ Click Image or Title to the Page on the Site
Product details
도서명: The Washington Manual of Cardio-Oncology
저 자: Daniel J. Lenihan
출판사: Lippincott W&W
ISBN : 9781975180447
출판일: 2022.03
판 형: Softcover
판 수: 1/e
면 수: 380 page
Description
Written by experts in cardiovascular disease, hematology, and oncology, The Washington Manual® of Cardio-Oncology: A Practical Guide for Improved Cancer Survivorship is a clinically relevant, easy-to-use primer on the detection, management, and improved cardiovascular-based patient outcomes in adults undergoing treatment for cancer or who have previously survived cancer therapy. Edited by Drs. Daniel J. Lenihan, Joshua D. Mitchell, and Kathleen W. Zhang, this concise yet comprehensive manual provides high-yield information that reflects today's advances in risk stratification, early diagnosis, and treatment of cardiovascular disease—all in an easy-access, concisely bulleted format for on-the-go reference.
Discusses the multitude of complex adverse effects of chemotherapy, targeted therapy, immunotherapy, and radiation therapy to help optimize quality of life and prolong survival in this vulnerable patient population.
Includes chapters on how cancer therapy affects the myocardium, valves, pericardium and cardiac electrical system including handy reference tables on typical side effects of commonly used cancer therapies.
Provides practical guidance in an easy-to-follow format that covers definition, associated drugs/therapies, epidemiology, diagnosis (history, physical exam, and diagnostic testing), treatment, and outcome/prognosis.
Covers the role of non-invasive imaging modalities in the diagnosis and screening for cardiovascular disease including echocardiography, MRI, and nuclear imaging.
Addresses frequently encountered clinical scenarios such as preoperative or pre-high-risk treatment evaluation with up-to-date expert consensus recommendations.
Details emerging treatments and optimal use of non-invasive imaging in cardiac amyloidosis.
Features easy-to-use flow-charts and tables that aid in the differentiation of cardiac masses.
The Washington Manual® is a registered mark belonging to Washington University in St. Louis to which international legal protection applies. The mark is used in this publication by Wolters Kluwer Health under license from Washington University.
Enrich Your eBook Reading Experience
Read directly on your preferred device(s),such as computer, tablet, or smartphone.
Easily convert to audiobook,powering your content with natural language text-to-speech.
Table of Contents
1 A Practical Approach to the Evaluation of a Cardio-Oncology Patient
GENERAL PRINCIPLES
Definition
Classification
Epidemiology
Etiology
Risk Factors
History
PATHOPHYSIOLOGY AND SPECIFIC TOXICITIES
Alkylating Agents
Androgen Deprivation Therapy, Antiandrogens, Androgen Receptor Blockers
Anthracyclines
Checkpoint Inhibitors (Programmed Death 1/Programmed Cell Death Ligand 1 and Cytotoxic T-lymphocyte-Associated Antigen 4 Inhibitors)
Chimeric Antigen Receptor T-Cell Therapy
Fluoropyrimidine
Human Epidermal Growth Factor Receptor 2 Targeted Therapies
Immunomodulatory Agents
PI3K/AKT/mTOR Inhibitor
Proteasome Inhibitors
Tyrosine Kinase Inhibitors
Vascular Endothelial Growth Factor Signaling Pathway Inhibitors
Select Other Medications and Cardiovascular Adverse Effects
Radiation (Chest/Mediastinal)
PREVENTION
ABCDEs of Prevention
Coronary Vasospasm
Left Ventricular Dysfunction
Thrombosis
Torsades de Pointes
DIAGNOSIS OF CARDIOVASCULAR ADVERSE EVENTS DURING CANCER THERAPY
Clinical Presentation
Diagnostic Criteria
TREATMENT OF SPECIFIC CARDIAC DISEASES
Medications
Other Nonpharmacologic Therapies (Lifestyle)
SPECIAL CONSIDERATIONS/PULLING IT ALL TOGETHER
REFERRAL
PATIENT EDUCATION
MONITORING/FOLLOW-UP
OUTCOME/PROGNOSIS
REFERENCES
2 Cardiac Dysfunction: Traditional Chemotherapy, Human Epidermal Growth Factor Receptor 2–Based Therapy, and Radiation
GENERAL PRINCIPLES
DEFINITION OF CARDIAC DYSFUNCTION
SPECIFIC DRUGS AND THERAPIES
Anthracyclines
Human Epidermal Growth Factor Receptor 2 Inhibitors
Cyclophosphamide
Radiation
EPIDEMIOLOGY/RISK FACTORS FOR CARDIAC DYSFUNCTION
Anthracyclines
Human Epidermal Growth Factor Receptor 2 Inhibitors
Cyclophosphamide
Radiation
CLINICAL PRESENTATION OF CARDIAC DYSFUNCTION
History
Physical Examination
Diagnostic Testing
TREATMENT OF CARDIAC DYSFUNCTION
OUTCOMES/PROGNOSIS
Anthracyclines
Human Epidermal Growth Factor Receptor 2 Inhibitors
Cyclophosphamide
Radiation Therapy
PREVENTION OF CARDIAC DYSFUNCTION
SURVEILLANCE STRATEGIES FOR CARDIAC DYSFUNCTION
Cardiac Biomarkers
Transthoracic Echocardiography
Cardiac Magnetic Resonance Imaging
Multigated Acquisition Angiogram
REFERENCES
3 Cardiac Dysfunction: Small-Molecule Kinase Inhibitors, Immune-Based Therapies, and Proteasome Inhibitors
SMALL-MOLECULE KINASE INHIBITORS
DEFINITION
ASSOCIATED DRUGS/THERAPIES
EPIDEMIOLOGY
Primary Uses
CARDIOTOXICITY
MONITORING
VASCULAR ENDOTHELIAL GROWTH FACTOR SIGNALING PATHWAY INHIBITORS
DEFINITION
ASSOCIATED DRUGS/THERAPIES
EPIDEMIOLOGY
CARDIOTOXICITY
MONITORING
IMMUNE CHECKPOINT INHIBITORS
DEFINITION
ASSOCIATED DRUGS/THERAPIES
EPIDEMIOLOGY
CARDIOTOXICITY
MONITORING
CHIMERIC ANTIGEN RECEPTOR T-CELL THERAPY
DEFINITION
ASSOCIATED DRUGS/THERAPIES
EPIDEMIOLOGY
CARDIOTOXICITY
MONITORING
BISPECIFIC ANTIBODIES
DEFINITION
ASSOCIATED DRUGS/THERAPIES
EPIDEMIOLOGY
CARDIOTOXICITY
MONITORING
PROTEASOME INHIBITORS
DEFINITION
ASSOCIATED DRUGS/THERAPIES
EPIDEMIOLOGY
CARDIOTOXICITY
MONITORING
REFERENCES
4 Valvular Heart Disease
GENERAL PRINCIPLES
APPROACH TO VALVULAR HEART DISEASE IN THE CANCER PATIENT
RADIATION-INDUCED VALVULAR HEART DISEASE
GENERAL PRINCIPLES
Epidemiology/Risk Factors
Diagnosis
TREATMENT AND PROGNOSIS
PREVENTION AND SCREENING
CARCINOID HEART DISEASE
GENERAL PRINCIPLES
Epidemiology/Risk Factors
Diagnosis
Laboratory Testing
TREATMENT
OUTCOME/PROGNOSIS
NONBACTERIAL THROMBOTIC ENDOCARDITIS
GENERAL PRINCIPLES
REFERENCES
5 Vascular Disease in Cardio-Oncology
GENERAL PRINCIPLES
SUPERIOR VENA CAVA SYNDROME
GENERAL PRINCIPLES
DIAGNOSIS
Clinical Presentation and Initial Evaluation
MANAGEMENT
CORONARY VASOSPASM AND 5-FLUOROURACIL
GENERAL PRINCIPLES
DIAGNOSIS
Clinical Presentation
MANAGEMENT AND CLINICAL FOLLOW-UP
ACCELERATED ATHEROSCLEROSIS
GENERAL PRINCIPLES
Radiation Therapy
Graft-Versus-Host Disease
Nilotinib and other BCR-ABL Tyrosine Kinase Inhibitors
Immune Checkpoint Inhibitors
CLINICAL PRESENTATION
MANAGEMENT
ACUTE CORONARY SYNDROME
GENERAL PRINCIPLES
Cisplatin and Platinum Compounds
Vascular Endothelial Growth Factor Inhibitors
CLINICAL MANAGEMENT CONSIDERATIONS IN PATIENTS WITH ACUTE CORONARY SYNDROME
REVASCULARIZATION IN ACUTE CORONARY SYNDROME IN THE SETTING OF THROMBOCYTOPENIA
REFERENCES
6 Evaluation for Ischemic Heart Disease in Cardio-Oncology
GENERAL PRINCIPLES
Definition
Classification
Epidemiology
Etiology
Risk Factors
DIAGNOSIS
Clinical History
Laboratory Evaluation
Approach to Diagnostic Testing
Approach to Patients Prior to Noncardiac Surgery
Noninvasive Imaging
INVASIVE IMAGING AND THERAPEUTICS
Invasive Coronary Angiogram
Medical Therapy for Coronary Disease
Percutaneous Coronary Intervention
REFERENCES
7 Pericardial Diseases in Malignancy
GENERAL PRINCIPLES
ANATOMY OF THE PERICARDIUM
ACUTE PERICARDITIS
Definition
Etiology
Diagnosis
Management
Consequences
PERICARDIAL EFFUSIONS
Etiology
Diagnosis
Management
PERICARDIAL TAMPONADE
Pathophysiology
Diagnosis
CONSTRICTIVE PERICARDITIS
Etiology
Diagnosis
Management
Palliation
Complications
REFERENCES
8 Cancer-Associated Thrombosis and Embolism
GENERAL PRINCIPLES
Definition
Epidemiology
ASSOCIATED DRUGS/THERAPIES
Immunomodulatory Drugs
Tyrosine Kinase Inhibitors
Vascular Endothelial Growth Factor Inhibitors
Epidermal Growth Factor Receptor Inhibitors
Chemotherapy
DIAGNOSIS
Clinical Presentation
Diagnosis
TREATMENT
Initial Treatment of CAT
Long-Term Treatment of CAT
REFERENCES
9 Cardiac Masses
GENERAL PRINCIPLES
CLASSIFICATION OF CARDIAC MASSES
CARDIAC NEOPLASMS
Clinical Presentation
Diagnostic Testing
Classification of Cardiac Neoplasms
REFERENCES
10 Hypertension
GENERAL PRINCIPLES
DIAGNOSIS
Definition
History, Physical Examination, and Diagnostic Testing
EPIDEMIOLOGY
CANCER THERAPIES ASSOCIATED WITH HYPERTENSION
Vascular Endothelial Growth Factor Signaling Pathway Inhibitors
Non–Vascular Endothelial Growth Factor Signaling Pathway Tyrosine Kinase Inhibitors
Proteasome Inhibitors
Platinum-Based Chemotherapeutic Agents
Androgen Axis Inhibitors
Immunosuppressants
MANAGEMENT OF CANCER THERAPY–ASSOCIATED HYPERTENSION
Pretreatment Evaluation
On-Treatment Blood Pressure Surveillance
Selection of Antihypertensive Drugs
REFERENCES
11 Arrhythmias
GENERAL PRINCIPLES
Definition
Classification
RHYTHM DISTURBANCES
ATRIAL FIBRILLATION
Definition
Associated Drugs/Therapies
Diagnosis
Management
SUPRAVENTRICULAR TACHYARRHYTHMIAS (SVTS)
Definition
Associated Drugs/Therapies
Diagnosis
Management
SINUS NODE DYSFUNCTION
Definition
Associated Drugs/Therapies
Diagnosis
Management
ATRIOVENTRICULAR BLOCK
Definition
Associated Drugs/Therapies
Diagnosis
Management
QT PROLONGATION
Definition
Associated Drugs/Therapies
Diagnosis
Management
VENTRICULAR ARRHYTHMIAS
Definition
Associated Drugs/Therapies
Diagnosis
Management
Diagnostic Tests
REFERENCES
12 Intravascular Devices and Thrombotic Complications
PACEMAKER (PM) AND IMPLANTABLE CARDIOVERTER DEFIBRILLATOR (ICD)
GENERAL PRINCIPLES
Indications
Radiation Considerations for Patients With PM or ICD
GUIDELINES/RECOMMENDATIONS FOR PMS AND IRRADIATION
ROLE OF LEADLESS PM
PORTS
GENERAL PRINCIPLES
CONSIDERATIONS
COMPLICATIONS
Early Complications
Delayed Complications
THROMBOTIC COMPLICATIONS: INFERIOR VENA CAVA FILTER (IVCF), PERCUTANEOUS SUCTION THROMBECTOMY SYSTEMS, STENTING
GENERAL PRINCIPLES
CARDIAC COMPLICATIONS
ALTERNATIVE MANAGEMENT
Thrombolytics and Catheter-Directed Thrombolysis
IVC Filter
Percutaneous Suction Thrombectomy Systems
Stenting
REFERENCES
13 Autonomic Dysfunction
GENERAL PRINCIPLES
Definition
Classification
Background and Epidemiology
AntiNeoplastic Chemotherapies
Amyloidosis
Radiation Therapy and Surgery
Paraneoplastic Autonomic Dysfunction
ANATOMY AND PATHOPHYSIOLOGY
Autonomic Nervous System
Mechanisms of Neurotoxicity
AMYLOIDOSIS
Radiation and Surgery
PARANEOPLASTIC SYNDROMES
DIAGNOSIS
Differential Diagnosis for Orthostasis
History
Physical Examination and Bedside Maneuvers
Diagnostic Testing
TREATMENT
PROGNOSIS
REFERENCES
14 Echo Techniques for Cardiac Safety During and After Cancer Treatment
GENERAL PRINCIPLES
The Role of Echocardiography in Surveillance
DEFINITIONS
Cardiotoxicity
HISTORY OF SAFETY MONITORING
Early Modalities for Cardiac Evaluation
The Evolution of Echocardiography
ECHOCARDIOGRAPHIC TECHNIQUES FOR MONITORING
Two-Dimensional Imaging
Doppler
Three-Dimensional Imaging
Myocardial Strain and Early Detection of Left Ventricular Dysfunction
Contrast-Enhancing Agents
ECHOCARDIOGRAPHY SCREENING FOR CARDIOVASCULAR TOXICITY OF CANCER THERAPY
Cancer Treatment–Related Cardiac Dysfunction (CTRCD)
Valvular Heart Disease
Pericardial Disease
Vascular Toxicity
LIMITATIONS OF ECHOCARDIOGRAPHY
REFERENCES
15 Biomarkers as a Tool For Cardiac Safety
GENERAL PRINCIPLES
Definitions
Cardio-Oncology Biomarkers
Investigational Biomarkers
BIOMARKERS IN PRACTICE
Anthracyclines
Trastuzumab
Vascular Endothelial Growth Factor Inhibitors
Proteasome Inhibitors
Immune Checkpoint Inhibitors
Amyloidosis
Integration of Biomarkers into Cardio-Oncology Care
Cardiac Biomarker Profiles
Initial Cardiac Biomarker–Based Workup
Diagnosis and Intervention
CLINICAL VIGNETTES
Case 1: Breast Cancer
Case 2: Immune Checkpoint Inhibitors
CASE 3: ANTHRACYCLINE THERAPY
CASE 4: AMYLOIDOSIS
CASE 5: CANCER SURVIVORSHIP
ADDITIONAL RESOURCES
REFERENCES
16 MRI Techniques to Monitor Cardiac Safety During and After Cancer Treatment
CANCER THERAPY–RELATED CARDIAC DYSFUNCTION
Functional Assessment
Myocardial Strain
Tissue Characterization
Myocardial Edema
Myocardial T1 Mapping
Gadolinium-Based Imaging
INFILTRATIVE CARDIOMYOPATHY/AMYLOIDOSIS
IMMUNE CHECKPOINT INHIBITOR–RELATED MYOCARDITIS
CARDIAC TUMORS
CMR IN RADIATION-INDUCED HEART DISEASE
SUMMARY AND FUTURE DIRECTIONS
REFERENCES
17 Cancer Survivorship: Adverse Outcomes and Other Long-term Cardiovascular Considerations
GENERAL PRINCIPLES
STANDARDS OF SURVIVORSHIP CARE
GENERAL PRINCIPLES
CARDIAC COMPLICATIONS
GENERAL PRINCIPLES
VASCULAR COMPROMISE
STRUCTURAL ABNORMALITIES
Valvular
Pericardial
Conduction Disease
MYOCARDIAL DYSFUNCTION, HEART FAILURE
OTHER MEDICAL COMPLICATIONS
Secondary Malignant Neoplasms
Adverse Hormonal Effects
Reproductive Considerations
Lymphedema
Pain
PSYCHOLOGICAL AND SOCIAL COMPLICATIONS
PSYCHIATRIC ISSUES
COGNITIVE FUNCTION
FATIGUE
Educational Achievement
IMMUNIZATION CONSIDERATIONS
TRANSITIONING TO ADULT-CENTERED CARE
SUMMARY
REFERENCES
18 Hematopoietic Cell Transplantation
OVERVIEW OF HEMATOPOIETIC CELL TRANSPLANTATION
Types of Hematopoietic Cell Transplantation
Indications for Hematopoietic Cell Transplantation
Hematopoietic Cell Transplantation Procedures and Techniques
PRETRANSPLANT CARDIOVASCULAR EVALUATION
Cardiovascular Screening
Cardiovascular Optimization
CARDIOVASCULAR COMPLICATIONS OF HEMATOPOIETIC CELL TRANSPLANTATION
Early Cardiovascular Complications
Late Cardiovascular Complications
Hematopoietic Cell Transplantation Survivorship Considerations
CARDIAC COMPLICATIONS OF CHRONIC GRAFT-VERSUS-HOST DISEASE
REFERENCES
19 Drug-Drug Interactions and the importance of a PharmD
GENERAL PRINCIPLES
Definitions
PHARMACODYNAMIC DRUG INTERACTIONS
RESOURCES
REFERENCES
20 Permissive Cardiotoxicity
GENERAL PRINCIPLES
Definition
PREVENTION
EARLY IDENTIFICATION AND SUBCLINICAL LEFT VENTRICULAR DYSFUNCTION
RISK-BENEFIT ANALYSIS
INDICATIONS TO STOP THERAPY
SELECTED SPECIFIC DRUGS/THERAPIES
Anthracyclines
Human Epidermal Growth Factor Receptor 2 Antagonists
Checkpoint Inhibitors
REFERENCES
21 Multidisciplinary Approach to Cardio-Oncology and the Use of Advanced Practice Provider
MULTIDISCIPLINARY TEAM
Definition
COLLABORATION WITH OTHER DISCIPLINES
CRITICAL ROLE OF ADVANCED PRACTICE PROVIDERS ON THE C-O TEAM
ROLE OF NURSE COORDINATORS FOR THE CARDIO-ONCOLOGY MULTIDISCIPLINARY TEAM
CARDIO-ONCOLOGY RESEARCH: MULTIDISCIPLINARY APPROACH
THE ROLE OF ADMINISTRATIVE SUPPORT IN CARDIO-ONCOLOGY
REFERENCES
22 Cardiac Amyloidosis: General Diagnostic Approach
GENERAL PRINCIPLES
BACKGROUND AND EPIDEMIOLOGY
Epidemiology
CLINICAL EVALUATION
History
Physical Examination
Initial Diagnostic Testing
Establishing the Diagnosis of Cardiac Amyloidosis
REFERENCES
23 Light Chain Amyloidosis: Latest Treatment Strategies
GENERAL PRINCIPLES
STAGING
TREATMENT
Initial Therapy
Autologous Stem Cell Transplantation
Therapy for Relapsed/Refractory Disease
Amyloid Fibril-Targeting Therapy
ASSESSMENT OF TREATMENT RESPONSE
REFERENCES
24 Cardiac Amyloidosis: Latest Treatment Strategies for Transthyretin Amyloidosis
GENERAL PRINCIPLES
BACKGROUND
STAGING AND PROGNOSIS OF TRANSTHYRETIN CARDIAC AMYLOIDOSIS
TRANSTHYRETIN-DIRECTED THERAPY
Transthyretin Stabilizers
Transthyretin Synthesis Inhibitors
MANAGEMENT OF SYMPTOMATIC HEART FAILURE
ADVANCED HEART FAILURE THERAPIES
MANAGEMENT OF ORTHOSTATIC HYPOTENSION
Aggravating Factors
Nonpharmacologic Management
Pharmacologic Management
MANAGEMENT OF RHYTHM DISTURBANCES
REFERENCES
25 Cancer Survivors and Advanced Heart Failure Therapies
GENERAL PRINCIPLES
Definition
Epidemiology
DIAGNOSIS
Clinical Presentation
Diagnostic Testing
TREATMENT
Evaluation for Mechanical Circulatory Support
Pretransplant Considerations
Posttransplant Considerations
OUTCOMES
Summary
REFERENCES
Index
▶ Click Here( https://www.medcore.kr )to Homepage
---