Title of the Book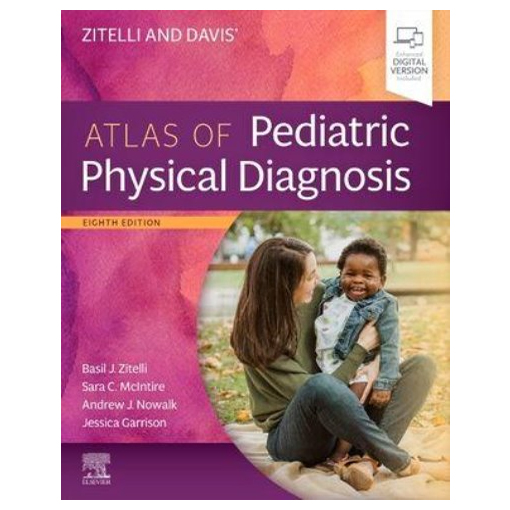 ▶ Click Image or Title to the Page on the Site
Product details
도서명: Zitelli and Davis' Atlas of Pediatric Physical Diagnosis,8/e
저 자: Basil J. Zitelli, MD
출판사: Elsevier
ISBN : 9780323777889
출판일: 2021.12
판 형: Hardcover
판 수: 8/e
면 수: 1032 page
Description
Thousands of high-quality clinical photographs paired with authoritative clinical content make Zitelli and Davis' Atlas of Pediatric Physical Diagnosis the trusted, go-to resource for residents and physicians alike. In this thoroughly revised 8th Edition, Drs. Basil J. Zitelli, Sara C. McIntire, Andrew J. Nowalk, and Jessica Garrison, provide a much-needed visual perspective on pediatric illness, helping you hone your visual examination skills and improve your diagnostic accuracy.
​
Key Features
​
Features more than 3,000 color photographs supplemented by clear explanatory text, laboratory tests, tables, algorithms, imaging, and approximately 25 clinical videos.
Emphasizes pertinent historical factors, examination techniques, visual findings, and diagnostic methods.
Provides meticulously updated content throughout, including an extensively revised ophthalmology chapter.
Discusses key topics in pediatrics such as development, child abuse, and adolescent gynecology.
Covers both common and uncommon disorders, making it an excellent resource not only for clinical diagnosis, but also for studying for the pediatric boards.
Lists actionable and practical references, bibliographies, and resources at the end of each chapter.
Enhanced eBook version included with purchase. Your enhanced eBook allows you to access all of the text, figures, and references from the book on a variety of devices.
​
Author Information
​
Edited by Basil J. Zitelli, MD, Paul C. Gaffney Division of Hospital Medicine, Retired, UPMC Children's Hospital of Pittsburgh, Professor Emeritus of Pediatrics University of Pittsburgh School of Medicine, Pittsburgh, Pennsylvania. ; Sara C McIntire, MD, Professor of Pediatrics, Paul C. Gaffney Division of Pediatric Hospital Medicine, Children's Hospital of Pittsburgh, Pittsburgh, Pennsylvania ; Andrew J Nowalk, MD, PhD, Associate Professor, Department of Pediatrics, University of Pittsburgh School of Medicine, Program Director, Department of Pediatrics UPMC Medical Education, Clinical Director, Division of Infectious Diseases, Department of Pediatrics, UPMC Children's Hospital of Pittsburgh, Pittsburgh, Pennsylvania and Jessica Garrison, MD, Assistant Professor of Pediatrics, Pediatric Hospital Medicine, UPMC Children's Hospital of Pittsburgh, Pittsburgh, Pennsylvania
Table of Contents
1 Genetic Disorders and Dysmorphic Conditions
2 Neonatology
3 Developmental/Behavioral Pediatrics
4 Allergy and Immunology
5 Cardiology
6 Child Abuse and Neglect
7 Rheumatology
8 Dermatology
9 Pediatric Endocrinology
10 Vascular Anomalies
11 Nutrition and Gastroenterology
12 Hematology and Oncology
13 Infectious Diseases
14 Nephrology
15 Urologic Disorders
16 Neurology
17 Pulmonary Disorders
18 Surgery
19 Pediatric and Adolescent Gynecology
20 Ophthalmology
21 Oral Disorders
22 Orthopedics
23 Pediatric Plastic Surgery
24 Otolaryngology
25 Fundamentals of Pediatric Radiology
▶ Click Here( https://www.medcore.kr )to Homepage
---